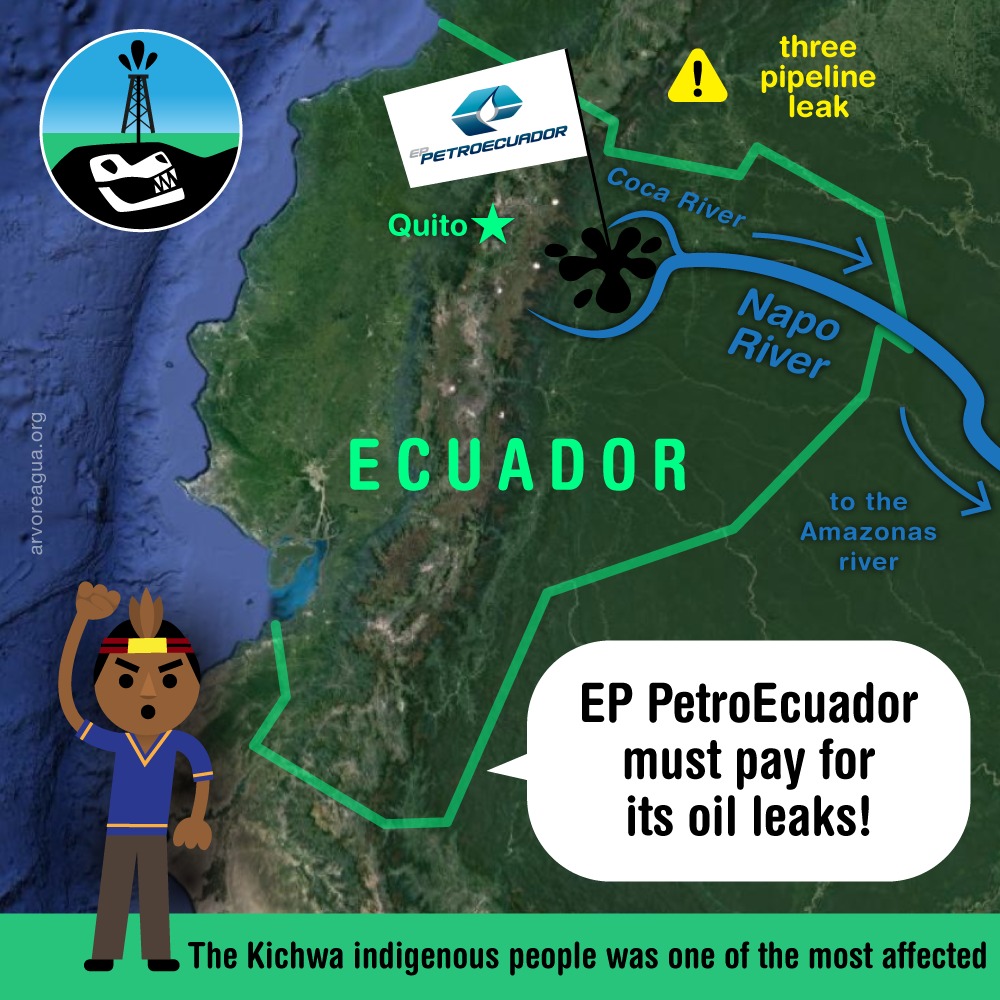 A year and a half ago, on the night of April 7, 2020, three oil pipelines spilled nearly 57,000 liters of oil into the Napo and Coca rivers. This was the second largest oil spill in the history of Ecuador. By dawn, the rivers were dead. The impact was tremendous: 35,000 people were directly affected, including 27,000 Indigenous Kichwa people. Another 85,000 people suffered indirect impacts in three Amazonian provinces: Napo, Sucumbíos and Orellana.
It is important to remember that at the time of the disaster, Covid-19 was already in the Amazon! The threat of the pandemic in remote parts of the forest, with the lack of public health and testing equipment, was already frightening. With the rivers dead, the situation became unsustainable. The population that depended on the river for survival could no longer sustain their livelihood, but still had to adopt prevention and control measures to prevent community spread of the virus. Suddenly, thousands of people lost access to water, food, and a healthy environment. This had a profound impact on the physical and emotional health of the population.
The Federation of United Native Communes in the Ecuadorian Amazon (FCUNAE) filed a protection action against the Ecuadorian State, demanding environmental remedy and reparation for the violated collective rights and rights of nature. Despite the violations, the provincial court ruled against the victims, and they and their defense attorneys have been criminalized. The companies OCP Ecuador and Petroecuador EP, the Ministry of Environment and Water, and the Ministry of Energy and Non-Renewable Resources were unable to demonstrate that adequate measures were taken to prevent the oil spill, though they had been warned of regressive erosion in the area by scientists and experts since the collapse of the San Rafael waterfall on February 2, 2020. The oil spills and the regressive erosion continue.
To date, no compensation has been paid to the affected populations. The government and oil corporations continue to ignore their responsibility for environmental destruction, and have not yet taken urgent measures to contain the causes of contamination or prevent future spills.
Know more:
"Oil spill: a triple pandemic devastates the Ecuadorian Amazon" – OpenDemocracy: https://bit.ly/3zmb9kk
"Indigenous Organizations and Human Rights Organizations Respond to PetroEcuador Statement on End to Trade Financing of Oil from the Ecuadorian Amazon by European Banks" – AmazonWatch: https://bit.ly/3jnJJVm